The electoral victory of Joe Biden as the next President of the United States of America has positive consequences for Nigeria, we believe. He is likely to give Africa a much higher priority than his predecessor, and key staff have African experience. On the other hand, unlike his predecessor, he may be relaxed about low oil prices if these are the indirect results of his global policies. See details below.
Last week, the foreign exchange rate markets closed essentially flat, with the Naira appreciating by 0.01% against the US dollar to N385.92/US$1 in the NAFEX market (also known as the I&E Window). In the parallel, or street market, the Naira depreciated by 0.43% to close at an offer price of N464/US$1. Convergence between the two rates remains unlikely, in our view, though they are still within 20% of each other. Going forward, we expect CBN's FX management strategies to continue supporting the naira at its current level at the official and I&E windows.
Last week, the secondary market yield for an FGN Naira bond with 10 years to maturity increased by 15 basis point (bps) to 4.31% from 4.16%, and at 7 years rose by 25bps to 3.69% from 3.44%, while at 3 years the yield increased by 5bps to 2.68% from 2.63%. The annualised yield on 314-day T-bill fell by 32bps to 0.39% from 0.71% while the yield on an OMO bill with similar tenure declined by 54bps to 0.28% from 0.82%. In the bond market, we expect demand in the secondary market to remain bullish, given high market liquidity. We expect the demand for instruments in the T-bill secondary market to weaken as investors will be focusing on the primary market auction (PMA) holding on Wednesday, given the steadiness in rock-bottom yields across the curve. The Central Bank of Nigeria will be offering bills worth N147.82bn (US$378.98M).
The price of Brent crude rose by 5.31% last week to US$39.45/bbl. The average price, year-to-date, is US$42.37/bbl, 34% lower than the average of US$64.21/bbl in 2019. As it turned out, Brent's trip down to US$37.46/bbl, beneath the recent range of US$40.00/bbl to US46.00/bbl, was short-lived and was corrected by positive news about the efficacy of Covid-19 vaccines, something which lifted global oil prices on Monday. However, as have pointed out before, oil has been much weaker than other commodities (like copper and iron ore) this year, so the supply side of the equation is as important as the global sentiment. While we may see a sharp rally in oil prices this week, we also think that the threat of rising global supply could prevent a sustained break above US$50.00/bbl.
The Nigerian Stock Exchange All-Share Index (NSE-ASI) rose by 1.59%  last week, with a gain of 15.55% year-to-date. Last week, Dangote Sugar (+19.57%), Dangote Cement(+9.06%) and PZ Cussons (+7.87%) closed positive, while International Breweries (-11.80%), Flour Mills of Nigeria (-3.37%), Mobil (-3.11%) fell. Going forward, we think investors are likely to take positions in only fundamentally justified stocks as the weak macro environment remains a significant headwind for corporate earnings. The Model Equity Portfolio will resume next week.
What are the consequences of Joe Biden's victory in last week's US presidential election? International press coverage has not given much space to Africa, but it is important to measure the significant difference between Donald Trump's administration and the incoming administration of Joe Biden. These differences fall into two categories: direct policy changes and indirect effects.
Direct policy changes will be quite obvious, with the US according to Africa much higher priority than during the past four years. A feature of Donald Trump's administration was that certain African diplomatic and development finance institution (DFI) posts went unfilled for long periods: the new administration is likely to correct this oversight quickly. Waiting in the wings, among others, are a number of Obama-era officials with experience of the continent.
Part of the (Kamala) Harris-Biden presidential transition team is Susan Rice, a diplomat with experience as Assistant Secretary of State for African Affairs 1997-2001, US Ambassador to the United Nations 2009-13, and US National Security Advisor 2013-17. So, right at the heart of Biden's team is a senior official with experience of Africa. She may be appointed to a senior role and is likely to take US engagement with Africa seriously, with positive effects on diplomatic appointments and, possibly, aid budgets.
Biden is an avowed 'Atlanticist' meaning that he will return the US to its traditionally close relationship with Europe, which in most cases means the European Union (EU), and to enthusiastic participation in the North Atlantic Treaty Organization (NATO), the 30-nation-strong military alliance which stretches across North America and Europe. One direct consequence could be a further commitment by NATO to operations in the Sahel region, the semi-arid area stretching from Senegal in the west to Sudan in the east, and which touches Nigeria's northern border.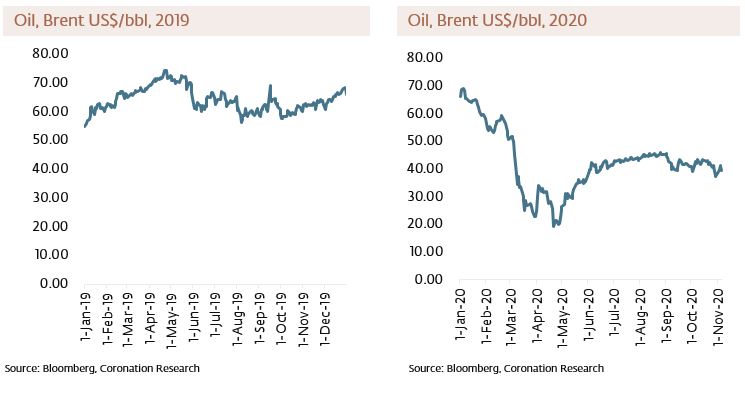 In terms of overall diplomatic positioning, Nigeria was wise not to side too openly with Donald Trump. Those countries, generally with populist governments, that did make their affection obvious, and which now may wish to back-pedal include, in our view: Brazil; Hungary; Poland; and, of course, the United Kingdom.
However, part of Biden's involvement in global diplomacy will likely include the US becoming involved with the 2016 Paris Agreement on climate change. In short, he wants the US to join the international effort to reduce carbon emissions and therefore does not favour his predecessor's policy of ramping up US oil production – a policy which required a high oil price because quite a lot of US shale production is expensive.
At the same time, Biden supports a treaty on nuclear containment with Iran, a move that could bring a significant amount of Iranian oil production back onto international markets next year, with the potential to depress prices. In summary, a Biden administration might see low oil prices (or prices around the current level) as nothing to worry about in the context of its broader policies. The read-through for Nigeria is that 2021 could be as challenging as 2020 in terms of Brent crude prices.