Digital technologies can promote growth in an economy partly due to their capacity to reduce costs and improve the quality of delivery. However, to achieve this, high-speed and reliable internet and broadband are required. The latest data released by the Nigerian Communications Commission (NCC), the industry regulator, show that internet subscriptions stood at 139.4 million in July, representing a y/y decline of -5%. Furthermore, we noticed a m/m decline of c.431,000 in subscriptions.
The decline in subscriptions can be partly attributed to the temporary suspension of SIM card sales to ensure the achievement of the National Identification Number (NIN) registration exercise. Additionally, based on our channel checks, the stress associated with the NIN-SIM linkage has resulted in customers abandoning SIMs of devices that are not their primary source for communication or internet connectivity.
MTN Nigeria (MTNN) accounted for the largest share (42%) of total subscriptions though down -1.0% m/m in July '21. Airtel (-0.5%) and Glo (-0.9%) also recorded m/m decreases. Over the past year, there has been a visible shift to fibre broadband internet plans which do not necessarily need SIM cards to function. We note that some residential estates are increasingly using this service given the heavy reliance on internet services at home due to the newly adopted work-from-home approach.
In November '19, President Buhari launched the National Digital Economy Policy and Strategy. The strategy is hinged on eight critical pillars. One of the critical pillars is developing a solid infrastructure by deploying fixed and mobile broadband infrastructure to deepen broadband penetration and drive an inclusive and vibrant digital economy. Similarly, in September '21, the FGN approved the national policy for the fifth-generation (5G) network to boost the country's digital economy. The national broadband plan set a target for the country to attain 70% broadband penetration at a price of N390 per 1GB of data (i.e. 1.3% of minimum wage).
Broadband subscription/penetration data (July '20 - July '21)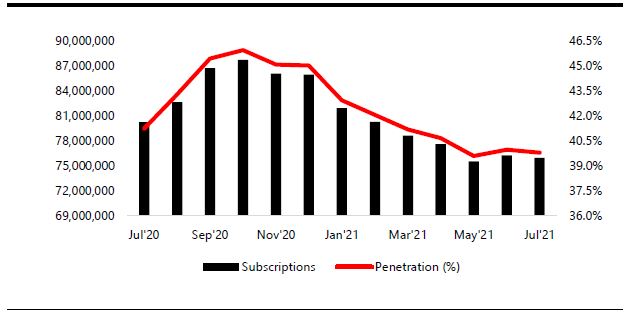 Broadband penetration in need of a leg-up
The latest national accounts show that Information and Communications Technology sector grew by 5.6% y/y and contributed 17.9% to the total GDP in Q2 '21. This is slightly higher than its contributions in Q2 '20 (17.8%) and Q1 '21 (14.9%). It also showed that telecommunications grew by 5.9% y/y in Q2 '21 compared with 7.7% in Q1 '21 and 18.1% in Q2 '20.
We note that investments into the sector have declined steadily. Capital importation into the telecommunications sector declined by 138.2% from USD944.1m in '14 to USD417.5m in '20. This can be linked to the infrastructure deficit in the telecommunications sector, the high cost of services and access devices, low digital literacy, poor perception of broadband value, among others.
Clear policy and regulatory guidance are fundamental to the optimal distribution and uptake of broadband services. The evolving work conditions, travel restrictions due to covid-19, the rise of e-commerce, and integration of technology in daily activities show that the rollout of broadband services has the potential to address various socio-economic challenges, grow the economy and create jobs. Industry sources suggest that a 10% increase in broadband penetration can increase the GDP of an economy by 1.8 – 2.0%.